I found myself in South Florida this week for a work trip to Miami. The weather was about perfect for me; clear blue skies with big puffy clouds and about 75 degrees. I planned on making a day trip down to the Everglades since it was only about 35 mins from where I was staying. This would be my 3rd Everglades trip in the last 4 years, so I had a good idea what I needed to bring. I was fortunate enough to pack my trusty ThinkTank Airport Security roller bag will a bunch of photo gear, including my HUGE 400mm lens. I figured it would come in handy when trying to reach out to the Everglade's wildlife.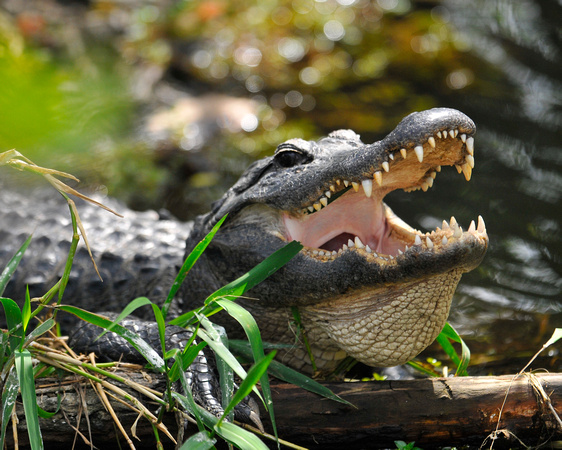 I did encounter a handful of Gators, like this guy, who was laying out in the afternoon sun. However, I didn't see as many Gators this time as I have in the past. I think this was due to it still being dry season, which is better for seeing the over 300 species of birds that can be found in the Everglades. I know nothing about birds, but must admit, they are fun to take pictures of, especially when you can get close to them.
For the photo geeks out there, I primarily used my Nikon D300 w/ 400mm and my Nikon D3 w/ 70-200mm. I used a monopod for the 400mm most of the time also. Getting close to these animals wasn't very hard. They are wild animal, but they are also pretty use to humans walking around and looking at them. It is way better than going to a zoo in my opinion.
The most interesting thing that happened on my little adventure was while I was lugging my gear around on a trail that went out to an observation point. I try and keep my head on a swivel, since you never know when or where you might spot something. So, there I was walking along when I saw something out of the corner of my eye, fall from the tree and make a small 'thud' noise. I look down and about 6in from my foot is small snake, about 1 1/2 to 2 feet long. It quickly slithered away, but needless to say, I wasn't ready for that. If it had landed on me, I probably would have screamed like a little girl.
Overall, it was totally worth going down there again. There really isn't any other place I've been to with that much accessibility to wildlife.
To see all of my photos from this Everglades visit, go to http://www.framehousephotography.com/archives/2012/everglades
**Previous Everglade albums: 2009's Trip Album and 2011's Trip Album